Inspection diving encompasses Non-Destructive Testing (NDT)*, Close Visual Inspection (CVI), physical inspection, subsea photography and video surveys.
In response to growing industry demand for subsea NDT services, Fremantle Commercial Diving has developed a full-time team of specialist inspection divers who are formally qualified in advanced NDT techniques (3.1U and 3.2U). These divers are trained through internationally recognised organisations such as TWI International and are qualified to perform tasks such as:
Ultrasonic digital thickness measurements (metals)
Cathodic potential (bathycorrometer) measurement
Magnetic particle inspection
Eddy current testing
Close visual inspection (including concrete)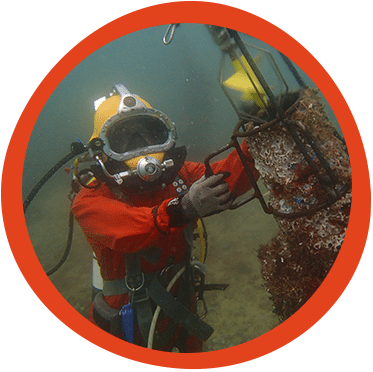 We perform these tasks for clients with a very broad range of assets including;
seawater desalination plants
jetties
bridges
pipelines
water tanks
mines
land based fire suppression systems
We deliver inspection reports of outstanding quality, written by qualified personnel. Our reports are concise, well-written, and are always supported by meaningful graphics, clear photographs and high quality video. Our divers are experienced in the many challenges involved with inspection and maintenance diving, including; confined spaces, pipe penetrations, biological hazards, contaminated environments and liquids other than water.
If you're ready to get a clear picture of what your subsea assets really look like, contact Fremantle Commercial Diving today
IMAGE GALLERY
(Click on an image to enlarge it.)
To find out how our services can benefit your organisation contact us for an obligation free discussion.